A new joint publication by the World Health Organization (WHO) and the Office of the United Nations High Commissioner for Human Rights (OHCHR) is calling on governments around the world to make radical reforms in mental health laws to promote human rights in order to protect the rights of everyone who interacts with mental health systems.
This publication: "Mental health, human rights and legislation: guidance and practice" offers a "blueprint" for what laws should look like and proposes steps towards establishing mental health services that are respectful of human dignity and comply with international human rights, norms and standards.
"Mental health is an integral and essential component of the right to health," said Dr Tedros Adhanom Ghebreyesus, WHO Director-General. "This new guidance will support countries to make the changes needed to provide quality mental health care that assists a person's recovery and respects their dignity, empowering people with mental health conditions and psychosocial disabilities to lead full and healthy lives in their communities."
"Our ambition must be to transform mental health services, not just in their reach, but in their underlying values, so that they are truly responsive to the needs and dignity of the individual. This publication offers guidance on how a rights-based approach can support the transformation needed in mental health systems" said Volker Türk, UN High Commissioner for Human Rights.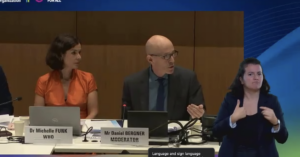 The report states:
"Existing legislation often fails to address the social and economic factors that affect mental health, and can thereby perpetuate discrimination and human rights violations, such as denial of legal capacity, coercive practices, institutionalisation, and poor-quality care, including in mental health care settings. In response, the World Health Organisation (WHO) and the Office of the United Nations High Commissioner for Human Rights (OHCHR), among other international stakeholders, are actively advocating for a human rights approach to mental health. The international human rights framework, particularly the Convention on the Rights of Persons with Disabilities (CRPD), calls for a significant shift from biomedical approaches towards a support paradigm that promotes personhood, autonomy, and community inclusion."
It continues:
"Legislation on mental health must therefore take a new direction away from the narrow traditional "biomedical paradigm" that has contributed to coercive and confined environments in mental health services. To achieve this and fully embrace human rights, the Guidance proposes new approaches, such as setting a clear mandate for mental health systems to adopt rights-based approaches; enabling person-centred and community-based services; raising awareness and challenging stigma; eradicating discrimination and coercion; promoting community inclusion and participation; and developing accountability measures. Any new direction requires the engagement and participation of those with lived experience, including experience of intergenerational trauma, in shaping the law to reflect and respond to their perspectives in the pursuit of recovery, reparation and healing. This collaborative approach is essential to create a mental health system that respects human rights, prioritises care and support over control, and supports individuals in achieving their full potential."
The report was developed through extensive research and consultations, its key chapters cover the need for reform, principles and provisions for legislation, and a rights-based process. A practical checklist assists in assessing and developing legislation, while ensuring flexibility for countries to tailor efforts to specific national and local contexts. This resource is intended for legislators, policymakers, health professionals, monitoring and evaluation authorities and advocacy groups, among others.
Launched today (Mon Oct 9), by a panel of speakers, one of those (pictured) was campaigner Caroline Mazel-Carlton. She said: "Taking pills made other people feel better- they were less afraid of me. But it didn't make me feel any better…The biomedical model, it's not like they can tell you what's wrong…it's a power structure. Instead of trying to balance chemicals, it should be about building communities. Humans should have the right to allow their struggles have meaning again… Just because someone can prescribe drugs doesn't mean they are experts on my experiences. It (the current biomedical system) is a system about power."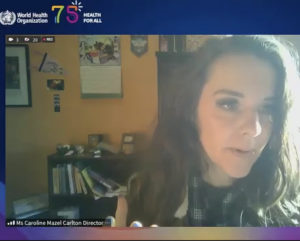 The UN/WHO report highlighted the important role media and factual information has to play in reforming mental health.
"The stigma, myths and misconceptions associated with mental health conditions and psychosocial disability can represent obstacles to the effective implementation of rights-based legislation. Hence, changing public attitudes constitutes an important component in implementing legislation. Disseminating information about mental health, including about the rights provided in new legislation, can help to change public attitudes. Public awareness programmes need to explain why a human rights-based approach is important and how it applies to every person, not only those with mental health conditions and psychosocial disabilities. The media can play a valuable role in this process, highlighting the importance of respecting the human rights of persons with lived experience and assisting in educating the public about the new approaches to mental health care and support, particularly the importance of community-based approaches."
Find the full report here: https://www.who.int/publications/i/item/9789240080737